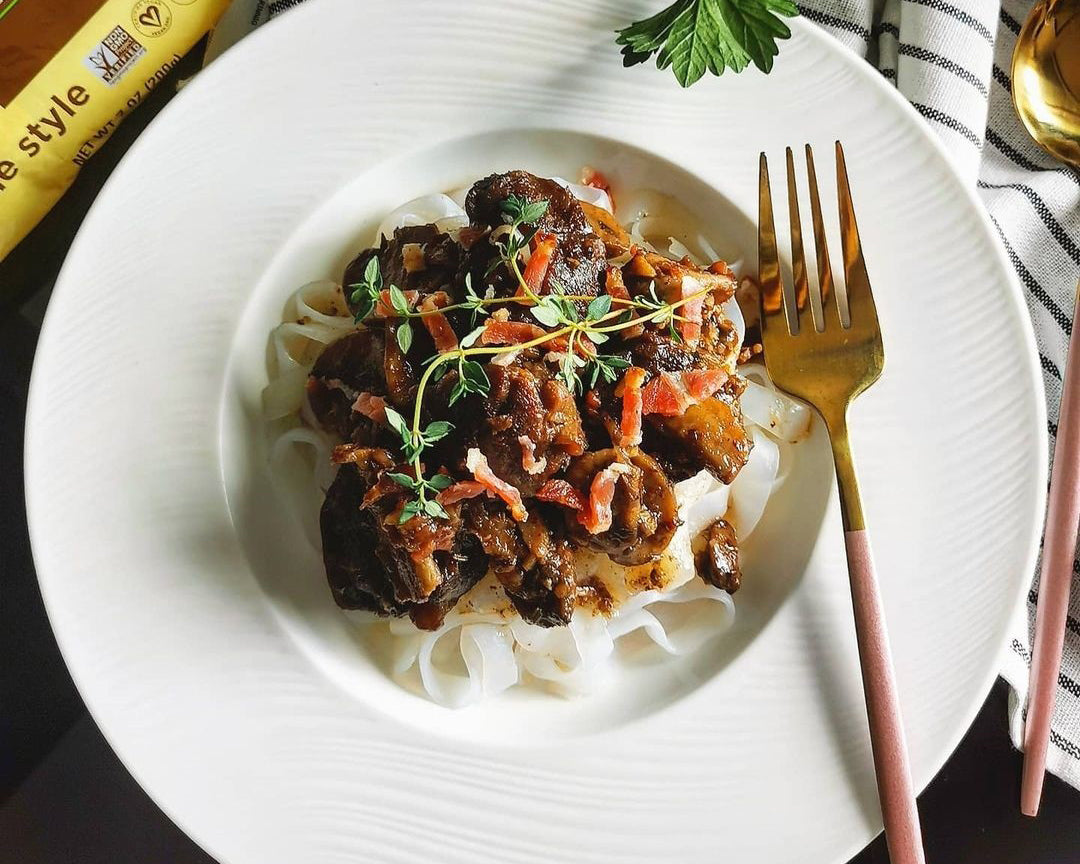 Michelle is bringing the beef with this keto take on a delicious classic meal. Use this recipe in your meal prep this week!
"I used fettuccine from Miracle Noodle to keep this recipe low-low-carb and keto-friendly!"
Recipe by Michelle Dimalanta AKA @bible10 on Instagram.
INGREDIENTS:
1 pack of Miracle Noodle Fettuccine
1 kg beef chunks (cut into cubes)
200 g uncured bacon
400 g Swiss white button mushrooms
Garlic
Onion
1 cup red wine
300 ml beef stock
Water
Garnish: parsley, thyme, rosemary, and bay leaves
Cayenne pepper
Salt and pepper to taste
Xanthan gum (optional)
DIRECTIONS:
1. Start by frying the bacon in a Dutch oven. Start from a cold pan and slowly render out the fat. Once it's done remove it from the pan.
2. Cut beef into bite-size /cubes and season with salt and pepper. And sear each side on the residual bacon fat. Cook your beef in batches. Once you have good sear. Set aside.
3. In the same pan add onions, butter and fry until brown.
4. Add mushrooms season with salt and cayenne pepper.
5. Add garlic and cook until mushrooms release water and that starts drying up.
6. Add in the red wine and bouquet garni, beef stock, and give it a good stir.
7. Once all mixed you may add back your beef and bacon.
8. Add water until the beef is completely covered and bring it to a boil.
Lower the heat to low and cook for 90 mins. You can alternatively cook for 3hrs at 180c in an oven.
9. Check once in a while give a good stir and let it keep cooking.
10. Once the meat is tender remove the bouquet garni and garnish with chopped chives.
11. Serve it with your Miracle Noodle fettuccine noodles (prepared according to package). Enjoy!!