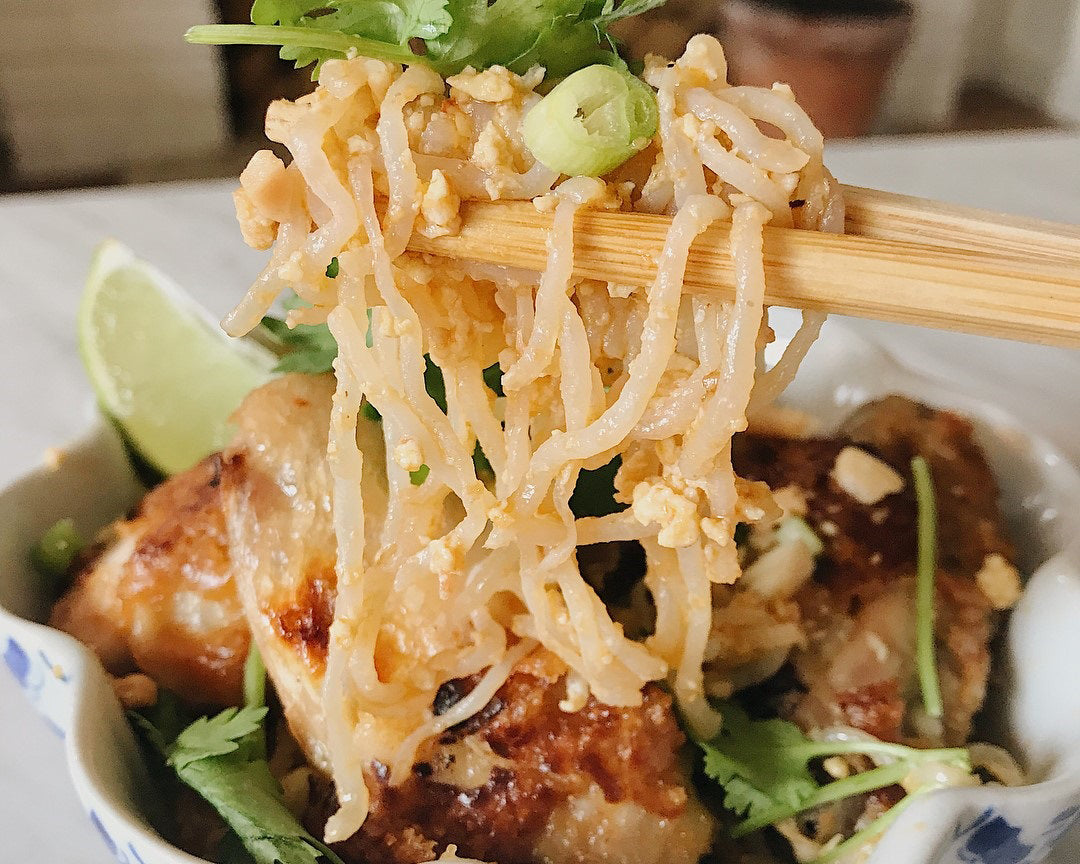 From spice level to protein choice, Pad Thai is one of the most customizable dishes. Here is a yummy recipe for Chicken Pad Thai by our Ambassador, Paige Geffken!
INGREDIENTS:
Chicken wings (Bone-in, broken down)
1 tbsp of sesame
2 packages Miracle Noodle Angel Hair
2 large eggs
 2 tbsp of raw peanut butter
2 tbsp of fish sauce
2 tbsp full-fat coconut milk
1 tbsp of Swerve
1-2 tbsps of chili garlic sauce
1 tbsp of soy sauce
Chopped peanuts, lime, and cilantro for garnish
DIRECTIONS:
1.Preheat oven to 450 degrees. Break down chicken wings into drumettes and flats. Season with salt, pepper, garlic powder, and onion powder to taste. Roast for 20- minutes.
2. Rinse Miracle Noodles in a colander under cold water for a minimum of five minutes, tossing frequently.
3. Heat 1 tablespoon of sesame oil under high heat and add noodles once hot and wavy. Heat noodles evenly in the oil then allow to sit (no stirring) in the pan for at least five minutes. Stir once and leave to sear for another five minutes. Allow moisture to leave the pan.
4. While noodles are frying, combine peanut butter, coconut milk fat, fish sauce, chili garlic, and swerve in a bowl. Set aside.
5. Add 1 tablespoon of soy sauce to noodles and mix through
6. Crack both eggs into noodles on medium to low heat.
7. Add half of the peanut butter and mix into noodles.
8. Once the chicken is done, remove and top with the remaining half of peanut butter sauce. Place it on high broil for about five minutes until the sauce caramelizes.
9. Top noodles with chicken and add garnishes. Enjoy!