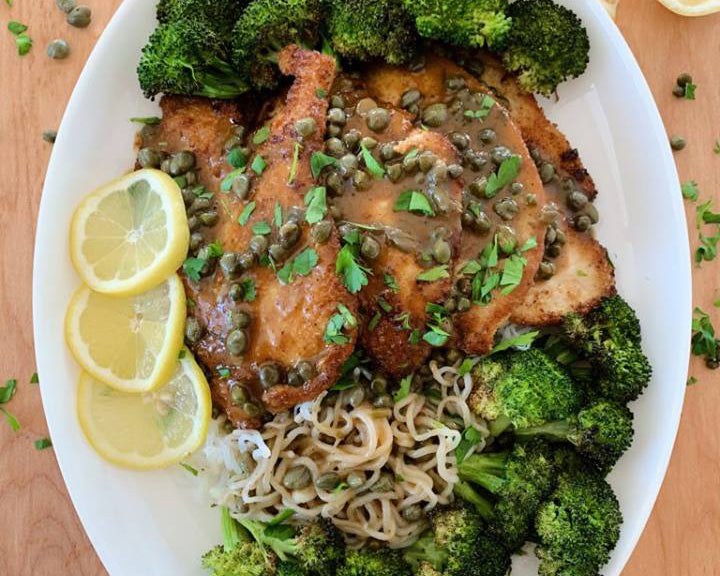 Our friend and fan, Allison Howard is welcoming spring with flavors from lemon, capers, and chicken. She has keto-fied a take on a classic Italian dish with our Miracle Noodle Angel Hair. See below for the recipe!

"Chicken Piccata is a quick and easy dinner to get on the table, with a savory, tangy sauce that will leave everyone wondering how you do it all in the kitchen. The truth is, none of us really "do it all." Instead, we embrace time-efficient meals that simply make our lives easier. This is one of those meals you'll want to add to your dinner arsenal." 

Recipe by Alison Howard AKA @thealisonhoward on Instagram.

INGREDIENTS:
Yield: 4

2 packs of Miracle Noodle Angel Hair
2 large chicken breasts
2 cups almond flour (or any flour you prefer)
1 cup heavy whipping cream
1 cup chicken stock or white wine
1/4 cup finely grated parmesan cheese
1/4 cup capers (or more of less depending on your preference)
1/4 cup fresh lemon juice
1/4 olive oil
2 Tbsp butter
Salt and pepper, to taste

DIRECTIONS: 

1. Prepare Miracle Noodle according to package. Set aside.

2. Butterfly chicken breasts all the way to turn the two breasts into four pieces. Make cutlets by gently pounding to 1/4 inch thin in between two pieces of plastic wrap.

3. Mix almond flour, Parmesan cheese, and a large pinch of salt and pepper. 

4. Dredge the chicken cutlets lightly in almond flour mixture.

5. In a cast iron skillet or frying pan heat olive oil and butter over medium-high heat. Once the butter is melted and no longer frothed, add the chicken, working in batches if needed. Remove and set aside (I like to put the chicken in the oven on warm 170 degrees).

6. Make the sauce by adding your wine or stock and lemon juice to the same pan the chicken was in and allowing the liquid to reduce by half, using a spoon to scrape the delicious bits at the bottom of the pan (called fond – all the flavor is there).

7. Add the cream and capers, stir and allow to come to a light boil as it begins to thicken into a sauce. Reduce heat to medium and stir until the desired consistency is achieved.

8. Serve sauce over your chicken. I love using Miracle Noodle as a low carb side! I put sauce all over it and it's so good. I also like to serve with broccoli or asparagus (as pictured).

9. Enjoy! xo!

Note: To see a video tutorial of how Alison made this dish, find her on Instagram at @thealisonhoward and go to the highlight "Meal Ideas" or click on this text.