Coconut Curry Angel Hair Soup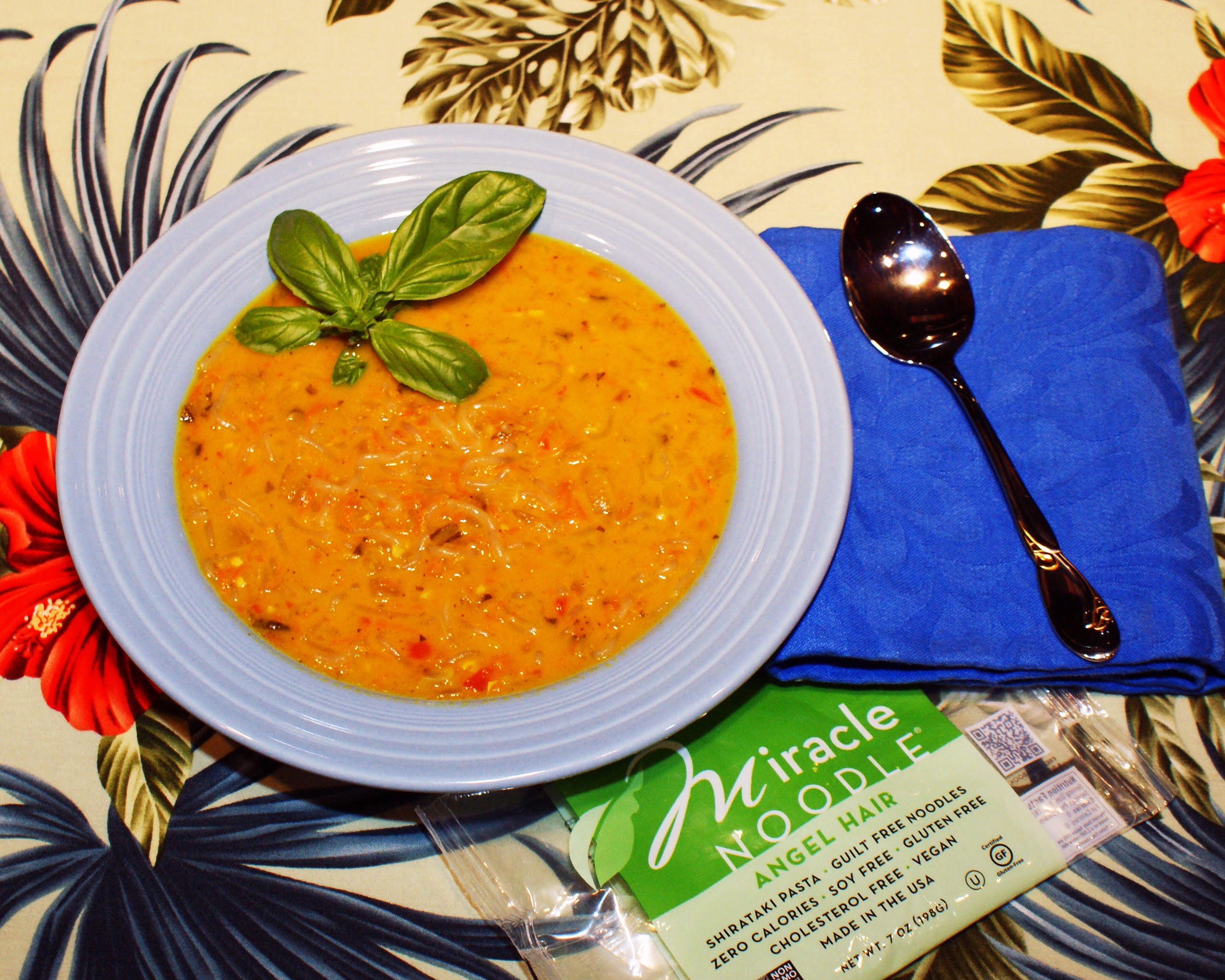 This delicious dish comes from the winner of our Facebook Recipe Contest, Angel Hair and you have a dynamite meal in a bowl that's delicious and filling!
  ! Bell peppers, curry, coconut milk are perfect with curry, turmeric and other flavorful spices. Make it with our
Serves: The Hungry!

INGREDIENTS:

1 7 Oz Package Miracle Noodle Angel Hair
1 Medium onion
1 Medium shallot
2 Stalks celery
1 Small orange or red bell pepper
1 Clove garlic
1 Medium carrot
4 Tbsp Extra virgin olive oil
1 Quart/32 oz organic chicken or vegetable stock
1 13 Oz Can Unsweetened coconut milk
1 tsp Curry powder
1/2 tsp Turmeric powder
1 tsp Ginger powder
8 Fresh, sweet basil or Thai basil leaves
3 Whole bay leaves
Fresh ground black pepper, & potassium salt to taste
2 Packets stevia
1 Tbsp Coconut flour, tapioca flour, or any flour of choice mixed in with 1/2 Cup of water for thickening

PREP: 10 Minutes

* Medium chop onion, shallot, celery, bell pepper - (I Like 1/2 orange & 1/2 red for this recipe.)
* Grate the carrot.
* Press or chop garlic clove.
* Finely chop basil leaves.
* Drain liquid from Miracle Noodles in a colander, thoroughly rinse the noodles and snip them with kitchen scissors to about 1 inch pieces.


DIRECTIONS: 20 Minutes

 



1. In a heavy bottom soup pot, heat olive oil to medium high and sauté the onion, celery, and shallot to lightly brown or translucent.
2. Add garlic and basil to sauté, cook for 1 minute.
3. Add chicken or vegetable stock
4. Add bay leaves, black pepper, salt, curry, turmeric, and ginger. Simmer For 7-10 minutes.
5. Add grated carrot.
6. Add coconut milk, stevia, and flour with water to thicken.
7. Simmer for 5 more minutes.
8. Add noodles to soup and simmer for 3 more minutes
9. Serve with a basil sprig.
ENJOY!