Coconut Curry Chicken with Miracle Noodle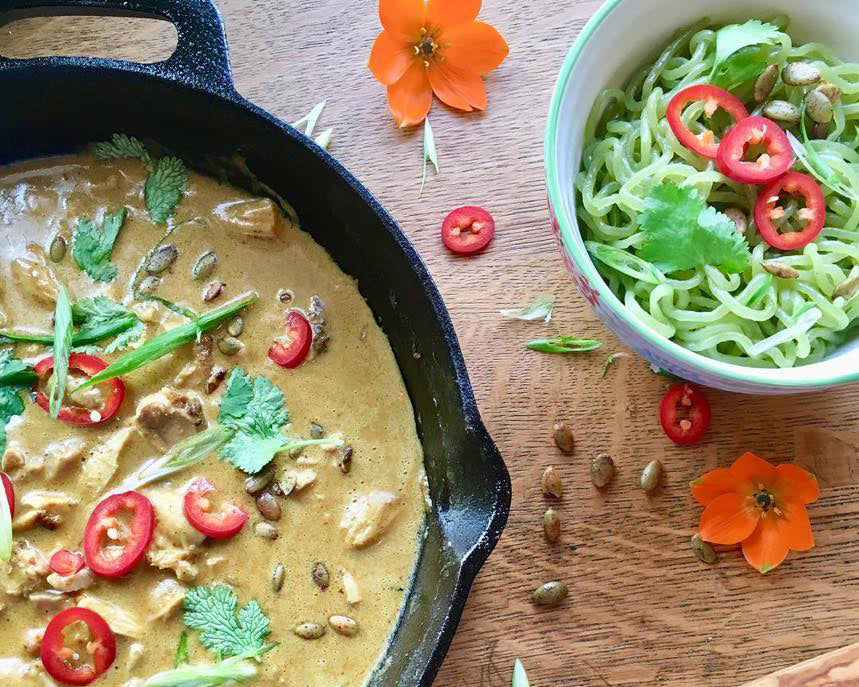 came up with this amazing and crave-worthy Curry with Miracle Noodle Spinach Angel Hair! It looks so tasty and creamy we just had to share! Make sure to visit Mindy at her blog for more delicious meal ideas. Link is after the recipe.
Coconut Curry Chicken with Miracle Noodle 
🥘
🥥 17 g fat | 3.6 net carb.

"I've been hungry for curry lately, but there are no Indian restaurants in my town! I figured, why not make it myself? Curry is very adaptable to any lifestyle. I follow the keto lifestyle, so I used the 0 carb "Miracle Noodle", and made the curry with lots of coconut milk and chicken thighs. This could be made with tofu or chickpeas for a vegan lifestyle, and would also be great served over zoodles (I'm still waiting on my veggie spiralizing attachment). If you're more traditional in your eating, you could always serve this over brown rice for a healthy whole grain.
For all the keto people out there, this was a great meal coming in at only 3.6 net carb per serving and 17 g of fat!"
Here's the recipe!
Serves 4
INGREDIENTS:

2 packages of Miracle Noodle Spinach 
1 lb chicken thighs 
2 tablespoons curry powder 
1 teaspoons garlic powder 
1 teaspoons cayenne 
1 teaspoons chili powder 
Salt and pepper, to taste 
2 tablespoon coconut oil 
2 cans of lite coconut milk, water drained 
2 fresno chilis sliced for garnish 
1 green onion sliced for garnish 
4 tablespoons roasted pumpkin seeds for garnish 
A few cilantro leaves for garnish
DIRECTIONS:
1. Heat oven to 375.
2. Combine all spices and sprinkle a little on the chicken thighs, reserving most of the spice for the sauce.
3. Cook chicken thighs about 17 minutes or until internal temp is 165.
4. While the chicken cooks, heat coconut milk in a saute pan with coconut oil.
5. Add remaining spices to coconut milk and allow to simmer.
6. Follow package instructions for the Miracle Noodles, or saute lightly the zucchini.
7. When the chicken is cooked, cut into small pieces and stir into the sauce.
8. Serve the curry over the noodles and garnish with fresno chili, cilantro, green onion, and pumpkin seeds.
Find out more about Mindy at her blog https://mindyscott.wixsite.com/mindyskitchen/blog/.