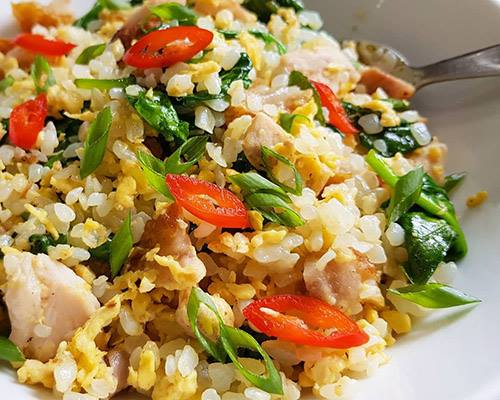 Fried rice is a favorite side or main dish for many. This fried rice recipe using our Miracle Rice is the perfect way to enjoy it while saving on carbs.
INGREDIENTS:
1 pack of Miracle rice
200 g of roast pork (or any protein)
2 eggs
1 tbsp minced garlic
2 cups baby spinach or any greens
2 to 3 tbsp liquid aminos, tamari, or soy sauce
1 to 2 tbsp fish sauce
Pinch of white pepper
Keto sweetener to taste (optional)
Cooking oil
Sesame oil
Spring onions & fresh chilies for garnish 
DIRECTIONS:
1. Rinse rice, boil for 2 mins, drain and dry roast in a pan without oil until squeaky to remove excess water.
2. In a bowl, combine 2 eggs with the rice and mix well. It may look wet, but during cooking, it will dry up.
3. In a pan, stir fry the garlic and roast pork with some cooking oil until fragrant. Then add the rice mixture, seasonings, and mix until the texture becomes dry. Adjust taste accordingly.
4. Lastly, add the baby spinach and mix for a while. Turn off heat, drizzle some sesame oil over it and mix to combine.
5. Dish up and garnish with spring onions and chilies.