Garlic Mushroom Fettuccine Alfredo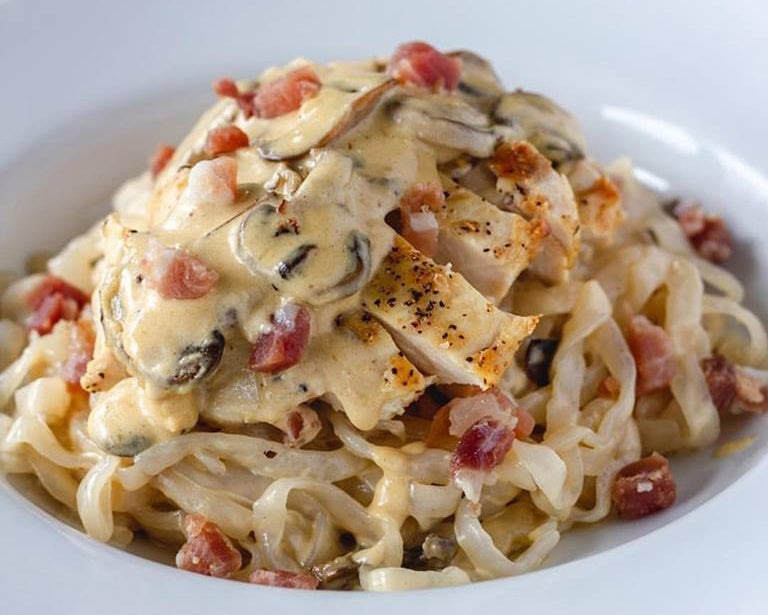 Patrick is turning heads and twirling forks with this meal! Check out what this keto and fitness enthusiast and family man made with our low-carb fettuccini noodles! 
"Shirataki noodles are one of those weird little food substitutes. They're all fiber, so they're a good weight-loss tool since they fill you up with very little calories. I decided I would make up for those robbed calories with a big helping of this garlic mushroom Alfredo sauce."

Recipe by Patrick Maese AKA @patrickmaese on Instagram.
INGREDIENTS:
1 package of Miracle Noodle Fettuccini, prepared according to package
Mushrooms, sliced
Garlic cloves, chopped
Chicken breasts
1/2 stick of butter
1 cup of heavy cream
A handful of Parmesan cheese
Pinch of Nutmeg
Chopped prosciutto
DIRECTIONS:
1. Prepare Miracle Noodle according to package and set aside.
2. Brown sliced mushrooms in a pan with a few chopped garlic cloves then set them aside.
3. In the same pan, I brown a couple of chicken breasts, then set those aside as well.
4. Deglaze the pan with half a stick of butter and about a cup of heavy cream and give it some time to reduce.
5. Lastly, add the mushrooms, a handful of parmesan cheese and seasoned it with a pinch of nutmeg.
6. Plate with the noodles tossed in the Alfredo sauce, sliced chicken and some chopped prosciutto on top.