Keto Air Fried Chicken with Creamy Garlic Noodles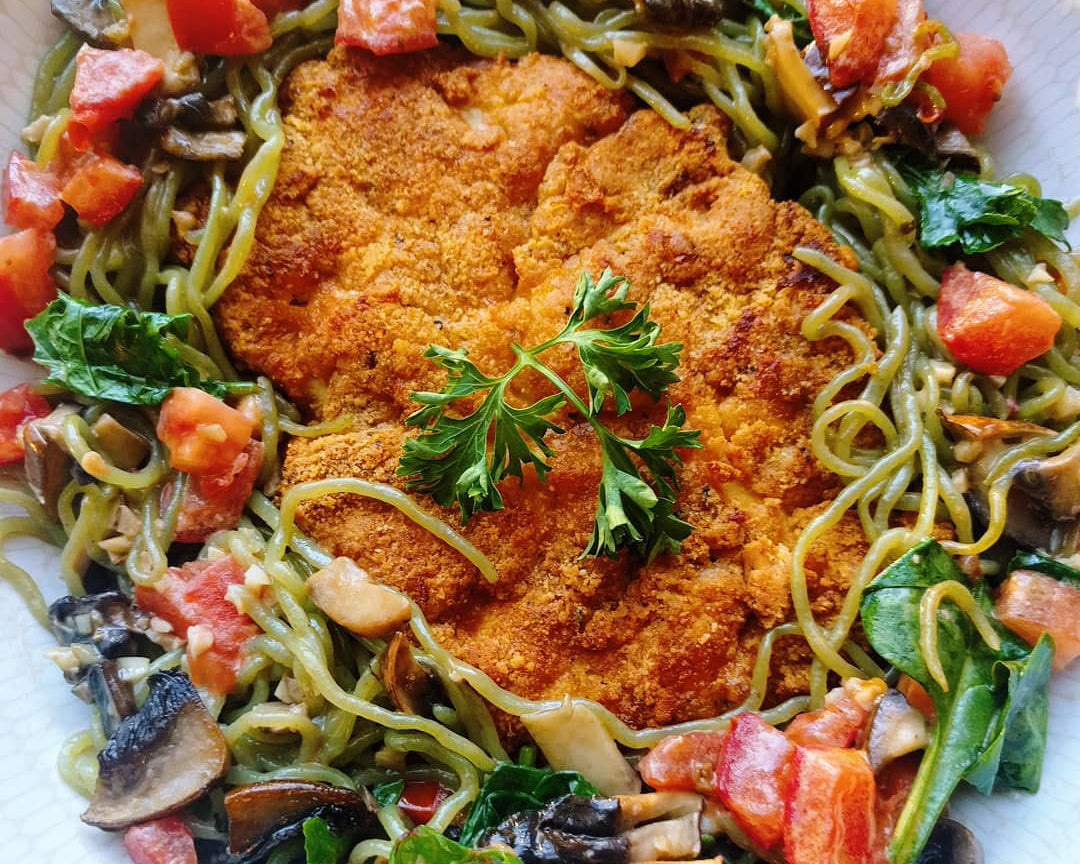 Make this for Faux Fried Food Friday! Check out this chicken dish that's created without the extra oil! Grab your air fryer!
Make this with our low-carb Spinach Angel Hair!


"Keto air fried chicken and Italian creamy garlic noodles? YAAAS! It's possible! Probably my favorite low-carb creation this far! Incorporated the noodles in the sauce and this happened."
 
♥️ Mel"

INGREDIENTS: 

Note from Mel: "I eyeballed everything in the recipe as this is a hard one to mess up and it is definitely more about personal preference."

1 packaged of Miracle Noodle Spinach Angel Hair
Chicken breast, tenderized
Egg whites
Almond flour from @bobsredmill
Parmesan Cheese (or cheese substitute of choice)
Sea Salt
Pepper
Paprika
Avocado spray oil
2 tablespoons of butter (or butter substitute of choice)
3 tablespoons of cream (or try a plain yogurt)
2 cloves of garlic
1/2 a portobello mushroom
1/2 a tomato, diced
A handful of baby kale/spinach mix

DIRECTIONS:

1. Rinse Miracle Noodle for one minutes. Boil for 2. Drain. Return the noodles to a hot pan and dry roast till the noodles squeak. Set aside.

2. Tenderize a chicken breast.

3. Make the chicken "breading" by mixing almond flour, parm, sea salt, pepper, and paprika in a large bowl.

4. Dip the chicken breast in egg whites. Then dredge it in your "breading".

5. Sprayed both sides of your chicken breast with avocado oil. Popped it in an air fryer for 15 min at 370 (flipped halfway through cooking).

6. Sautee mushrooms and garlic in butter, add heavy whipping cream, sea salt, diced tomatoes, and baby kale & spinach.

7. Fold in Miracle Noodle Spinach Angel Noodle in sauce.