Keto-Friendly Thai Noodles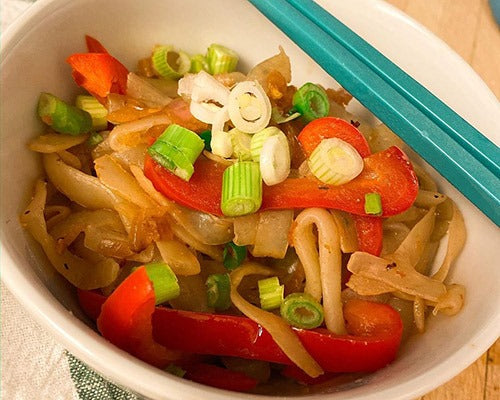 Here's the perfect replacement for flat noodles in any of your favorite Asian style dishes. Enjoy this keto-friendly version of Thai Noodles.
INGREDIENTS:
1 pack of Miracle Noodle Fettuccine
2 tbsp liquid aminos
1 tbsp rice vinegar
1 tsp sambal oelek
1/2 lime, juiced
1/2 shallot, diced
1 spring of green onion
1/4 red pepper, cut in strips
Olive oil spray
Umami seasoning- just a sprinkle (optional) 
DIRECTIONS:
1. Drain miracle noodles, then put them in a pot and boil in water for a few minutes.

Then place them in a pan to dry the noodle out for about 3 minutes flipping and stirring to get all water out.

2. Place the noodles in a bowl with the liquid aminos, rice vinegar, sambal oelek, and lime. Let it marinate in the fridge for about 20 minutes, stirring 1x every 10 minutes to coat noodles evenly in sauce.
3. While that's marinading, cook shallot and pepper in olive oil spray on low-medium heat until shallot is carmelized. Add green onion, stir and let it cook for for about 1 min. Set aside.
4. After the 20 minutes of marinading, take out noodles and put it in pan with shallots, green onion and pepper, cook on medium-high for about 6-7 minutes until sauce bubbles.
5. Add a few little sprinkles of umami, mix. Then pour it in a bowl and add favorite toppings! I added green onion! My diet doesn't allow me to have peanuts, but if I was allowed I would totally add some chopped peanuts!!