Keto Spaghetti with Pepperoni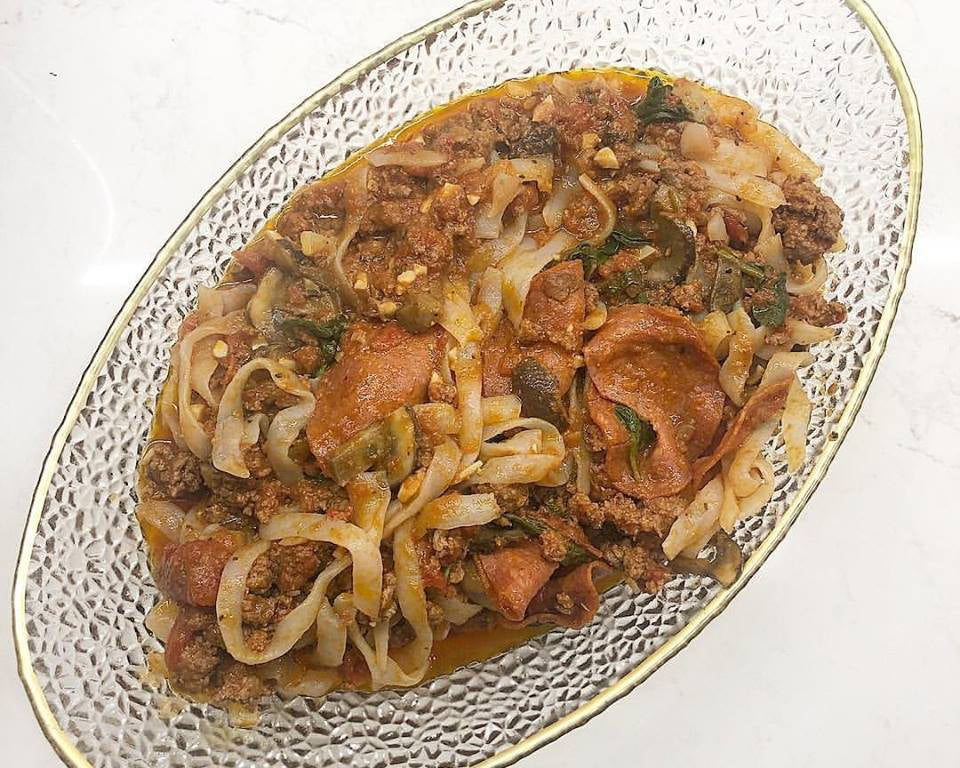 Our Ambassador Delly is dishing up in the kitchen! Lately, we are getting a bunch of our fans showing us a favorite comfort meal made low-carb - spaghetti with our keto-friendly noods! Try Delly's version and change up this dish with mushrooms, spinach, and pepperoni, and CINNAMON! Yes! It adds a new dimension to the meal.
⠀⠀⠀⠀
"This Low Carb Spaghetti Recipe turned out so delicious this time, and I think that pinch of cinnamon really helped. I know it's weird to think about adding Cinnamon to your Spaghetti recipe, but trust me... It somehow brings out amazing flavors. Growing up I remember seeing my mom always add a small pinch to her Spaghetti recipe, I figured I should try the same thing to my keto spaghetti. Total success!" 

Recipe by Delly Kerachi of Dellysketokitchen.
Serves 3 people. Each serving is only 5 net carbs⠀⠀⠀⠀⠀⠀⠀⠀⠀
INGREDIENTS:
1 lb ground beef 
2 packets Miracle Noodle Fettuccini
2 handfuls of spinach 
4 medium mushrooms sliced 
5 cloves garlic minced 
3 tbsp grass fed butter
1 1/2 cup @yomamasfoods marinara
2 tbsp avocado oil
10 pieces of organic uncured pepperoni (optional)
3 tbsp Parmesan cheese
Spices I used for the ground beef (not measured): Himalayan salt, fresh ground pepper, Cumin, Italian seasoning, Chili Powder, a small pinch of Cinnamon)
DIRECTIONS:
1. Rinse Miracle Noodle for 5 minutes under warm to hot water (under the faucet). Drain. Place noodles in a naked pan over medium heat and dry our till all water is absorbed.
2. Lower you temperature medium-low and add your garlic and butter to the noodles. Mix well and let it sit on the stove for about 4 minutes. Set them aside in a bowl.
3. In a large skillet, add your avocado oil over medium temperature. After about 3 minutes add your seasoned ground beef and mix well until browned and fully cooked through.
4. Add your keto-friendly red sauce, mushrooms, and pepperoni (optional) to your ground meat mixture and lower the temperature to medium-low. Let it simmer for about 4 minutes or so.
5. Add your spinach to the meat mixture and combine well.
6. You can either mix in your noodles to your meat mixture OR serve your noodles on your serving plate and top off your noodles with your meat mix.
7. Shave/grate 1 tablespoon of fresh Parmesan cheese per serving and enjoy this deliciousness!