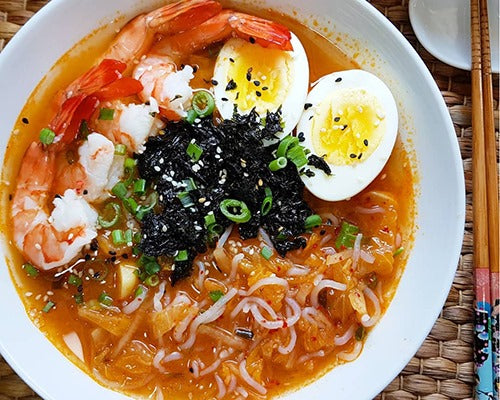 Make a tasty and appetizing Kimchi Noodle Soup. This recipe use zero-carb Miracle Noodle Spaghetti and serves up to 5 people.
INGREDIENTS:
5 to 6 packs Miracle Spaghetti
600 g kimchi (store-bought)
1 kg large shrimps (tails intact)
2-liter water or chicken stock
5 to 6 hard-boiled eggs
3 to 4 tbsp gochujang (red pepper paste)
3 cloves garlic (sliced)
Seasoning: Fish sauce, salt, soy sauce or chicken powder to taste, 2 to 3 tbsp white vinegar (for extra tangy taste)
Garnish: roasted seaweed, spring onions, black & white sesame seeds 
DIRECTIONS:

1. Prepare miracle spaghetti by rinsing, boiling for 2 mins, drain and set aside.
2. In a pot, boil the water or chicken stock. Cook the prawns in the water for a while, then remove and set aside. As an option, you can boil the shrimp shells for 15 mins then remove and discard. Add kimchi, kimchi juice, garlic, gochujang, seasonings, and boil for about 20 to 30 mins. Adjust taste accordingly.
3. Assemble noodles in a bowl and pour kimchi soup over the noodles. Top with shrimps, eggs, and garnishings. Enjoy!