Low-Carb Lobster Mac & Cheese with Steak and Asian Long Beans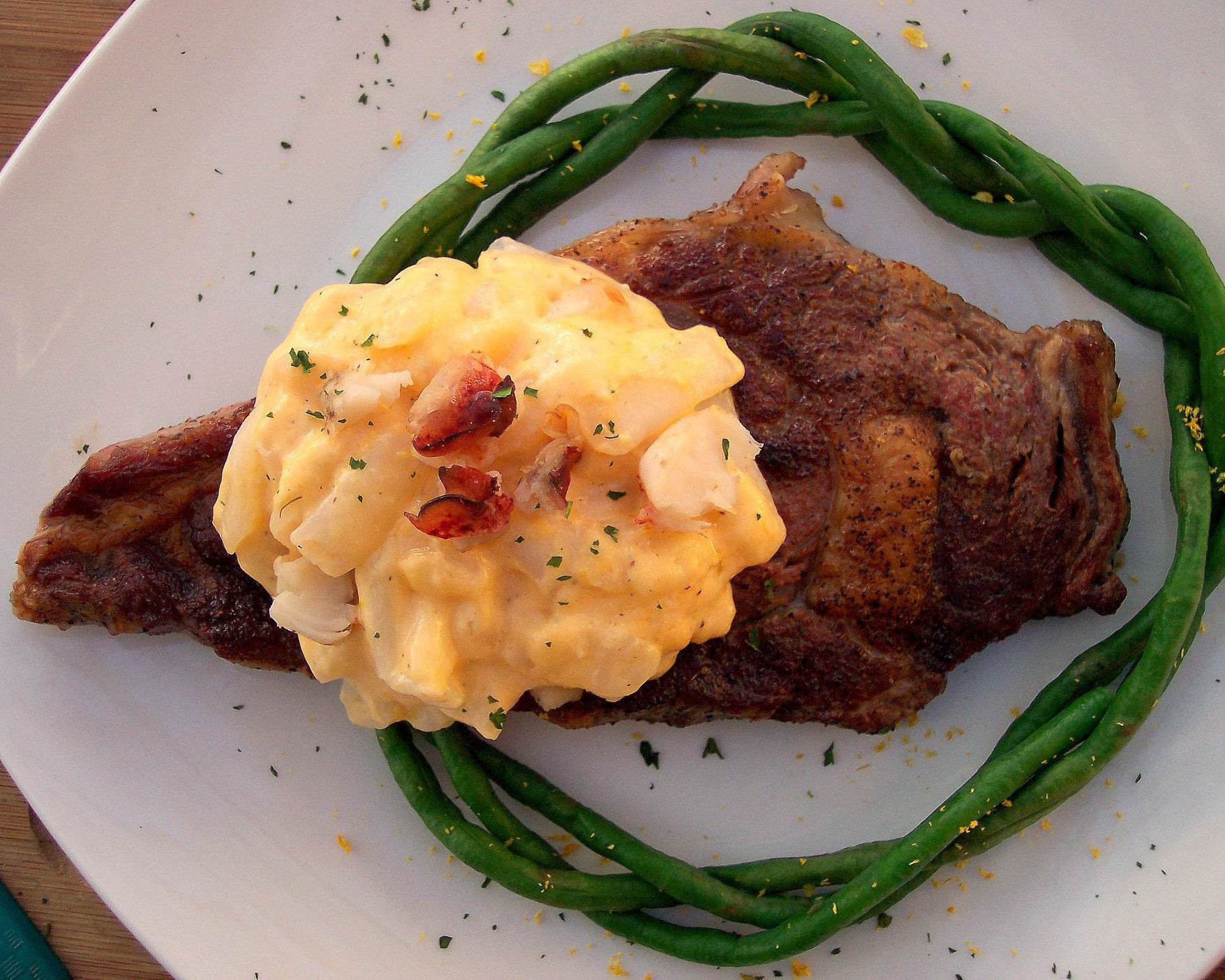 Have a romantic dinner withBumped Up Basic Low-carb Mac & Cheese - made with Miracle Noodle Ziti! Ambassador

Find Audrey on Facebook at Creative Low Carb Fusion!
Make this mac with our Miracle Noodle Ziti!
added cooked Lobster on top of a juicy rib-eye steak with steamed Asian long beans. This meal serves 2!
Low Carb Lobster Mac and Cheese

INGREDIENTS
1 pkg. Miracle Noodle Ziti 
1 cup heavy whipping cream
1 wedge Laughing Cow Creamy Swiss Garlic & Herb (or 1-1/2 tablespoons of cream cheese)
1 cup shredded cheddar cheese (can use Fiesta Blend, Monterey, Pepper jack, or any combination)
1/2 cup chopped, cooked lobster meat
1/4 tsp. black pepper
Salt to taste
DIRECTIONS
1.) Prepare Miracle Noodle Ziti according to package directions and set aside.

2.) Add cream and Laughing Cow cheese to a saucepan over medium heat. Stir frequently until cheese melts.

3.) Add shredded cheese and stir to melt.

4.) Add Miracle Noodle Ziti, lobster, pepper and salt.

5.) Stir over medium heat to warm the lobster. Serve immediately.
Note: Audrey used an ice cream scoop to make the luscious mound on top of the steak.
* Medium Rare Ribeye Steak using the 4-3-2 method. *
Put on your exhaust fan, because this stovetop method makes a lot of smoke! Your steaks will have a nice, brown crust on the outside while the inside is still juicy and tender. Always let the meat rest after removing from the pan to give the juices time to reabsorb into the meat to make it juicy, rather than dry.

INGREDIENTS
2 Rib-eye Steaks, about 1 to 1-1/2 inches thick
Kosher Salt, Black pepper to taste
Garlic powder

DIRECTIONS
1.) Let steaks sit about 30 minutes so they come to room temperature. 

2.) Heat cast iron pan over high heat until drops dance across the pan and evaporate.

3.) Season both steaks with salt, black pepper and garlic powder.
In the dry, hot pan, sear on one side for 4 minutes - do not be tempted to move or poke at the meat. Just let it cook for the 4 minutes.

4.) Turn over and sear on the other side for 3 minutes. Remove to a warm plate and let it rest for 2 minutes.


* Green Beans with Lemon Butter *
INGREDIENTS
1/2 lb green beans (I used long beans that I got at the Asian supermarket, but you can use regular green beans)
1/2 Tbs butter
1/4 cup lemon juice
Salt and pepper to taste
Lemon zest

DIRECTIONS
1.) Put green beans into a skillet. Add enough water to cover the bottom of the pan by an inch. The water will not completely cover the beans. 

2.) Cover the pan and bring to a boil over medium-high heat.

3.) Turn heat down and let simmer until the beans are bright green - about 3-5 minutes.

4.) Remove pan from heat and drain the water, leaving the beans in the pan.

5.) Return to stove with no heat.

6.) Add the butter, lemon juice, salt and pepper. Toss until lemon juice and butter cover the green beans. Sprinkle lemon zest over beans just before serving.