Low-carb Steak and Veggie Stir Fry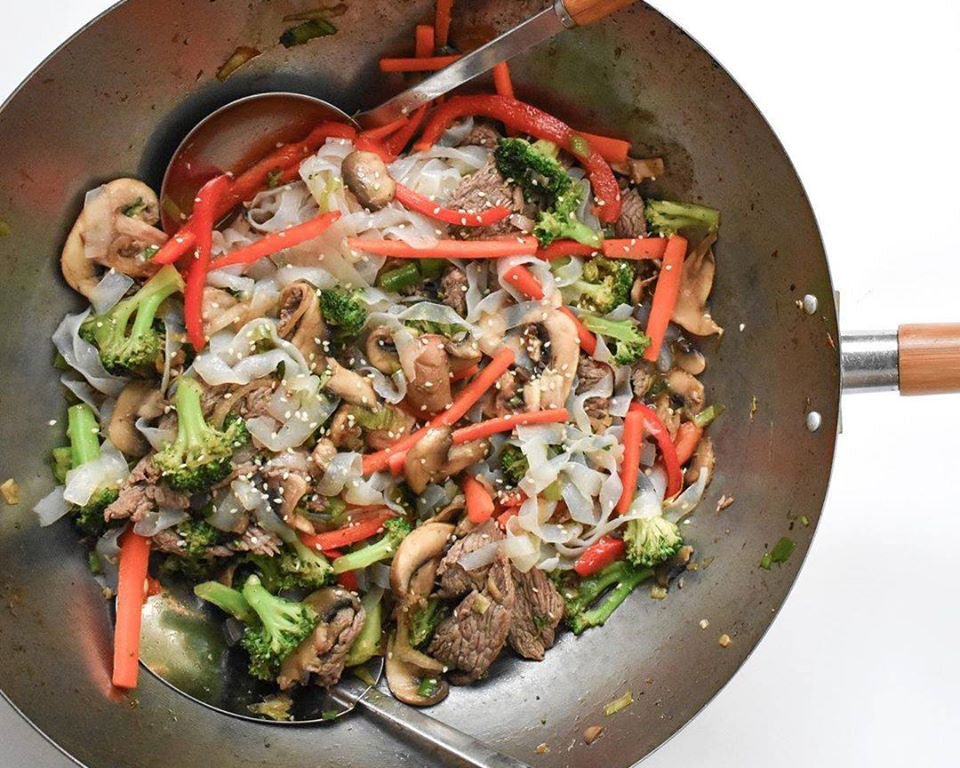 What's cooking? Everyone is making the most of what's in the fridge! Adding keto-friendly Miracle Noodle is an easy way to add pasta to your meals without the carbs or calories. That's what Stefani did!⁣⁣
Make this meal with our Miracle Noodle Fettuccine!
"Staying on top of healthy eating during quarantine is HARD and takes some serious self-control. Something that helps me is planning our meals for the week. I take inventory of what's in our fridge and pantry and list what we want to make. Then, I start a grocery list and attemp to get everything I need from the store...which is also a challenge. Here's what we made last-night."
Recipe by Stefani Wooldridge RDN, CLT AKA @vibrantnourishedlife on Instagram.


SAUCE:
⁣⁣
1/3 c no-soy soy sauce⁣⁣
2 Tbsp sesame oil⁣⁣
1 Tbsp fish sauce⁣⁣
2 Tbsp agave or honey⁣⁣
2 Tbsp fresh ginger minced⁣⁣
2-3 cloves garlic, minced⁣⁣
⁣⁣
INGREDIENTS:
⁣⁣
3 Tbsp avocado oil⁣⁣
1/2 - 1 lb lean steak, thinly sliced⁣⁣
2 green onions, chopped⁣⁣
1 shallot, thinly sliced⁣⁣
1 cup mushrooms, sliced⁣⁣
1/2 red bell pepper, sliced into thin strips⁣⁣
1 serrano or jalapeño, seeds removed & diced⁣⁣
2 cups Broccoli florets⁣⁣
2 large carrots, cut into thin strips⁣⁣
2 bags Miracle Noodle Fettuccine, prepared⁣⁣
⁣⁣
DIRECTIONS:
⁣⁣
1. Season beef with salt and pepper.⁣⁣
⁣⁣
2. For the sauce - whisk all ingredients together & set aside.⁣⁣
⁣⁣
3. Blanch broccoli and carrots for 2 mins in a medium pot.⁣⁣
⁣⁣
4. In a large skillet or wok, heat 2 Tbsp oil. Add beef & cook for 2 minutes. Remove steak & set aside.⁣⁣
⁣⁣
5. Add 1 Tbsp oil to skillet, add green onions, shallot, mushrooms, bell pepper, and Serrano. Stir fry veggies on high heat for about 5 minutes.⁣⁣
⁣⁣
6. Add sauce & sauté for a few minutes, add the broccoli, carrots, and beef back to the skillet and mix well.⁣⁣
⁣⁣
7. Add prepped Miracle Noodle to the stir fry. Mix well.⁣⁣
⁣⁣
8. Top with sesame seeds and sriracha (optional depending on how spicy you like it!)