Miracle Noodle Pumpkin Carbonara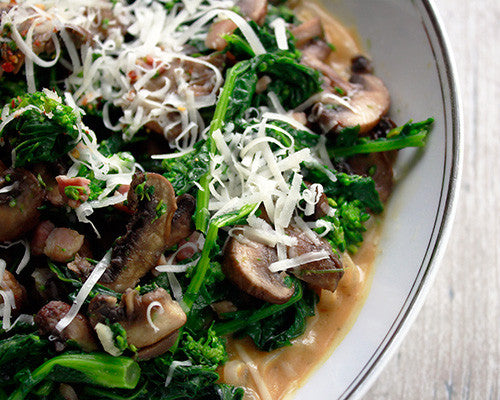 Pumpkin, nutmeg, allspice makes this dish extra nice! Recipe by Miracle Noodle Ambassador,

Serves 6

Ingredients
1 large bunch of broccoli rabe 

8 ounces of baby bella mushrooms

4 ounces of diced pancetta 

3 cloves of minced garlic, divided as 2 and 1

1 Tablespoon of olive oil

2 Tablespoons of butter

1 cup pumpkin puree

1 cup chicken broth

1/8 teaspoon nutmeg

1/8 teaspoon allspice

Freshly cracked black pepper

2 Tbsp heavy cream or half-and-half

Salt (to taste)

Grated parmesan cheese

Red pepper flakes
Method
Boil a large pot of water. Rinse the broccoli rabe and chop off the stems. Add broccoli rabe to boiling water and cook till tender.

Clean and slice the mushrooms.

Throw diced pancetta and sliced mushrooms into a large skillet and cook until ingredients begin to brown.

Add one clove of minced garlic and continue to brown.

When almost done, add the broccoli rabe along with 1 Tbsp of olive oil and mix together. Set aside and wash skillet.

Add 1-2 Tbsp of butter to the skillet with 2 cloves of minced garlic. Sauté until garlic becomes fragrant.

Add the pumpkin puree and chicken broth and stir together.

Add the nutmeg, allspice and freshly cracked black pepper.

Simmer over low heat for about 10 minutes. While sauce simmers, prepare Miracle Noodle. Rinse for one minute, boil for two, drain and set aside.

Add half-and-half (or heavy cream) to the sauce and stir.

Taste sauce and add salt if necessary.

Add noodles to the sauce and mix thoroughly.

To Serve: Add a heap of noodles to a plate. Spoon the broccoli rabe, and mushrooms, pancetta mixture over the noodles. Top with freshly grated parmesan cheese, extra cracked pepper and sprinkle with red pepper flakes. Enjoy!