Miracle Noodle with Stir Fry Veggies, Tofu and Peanut Ginger Sauce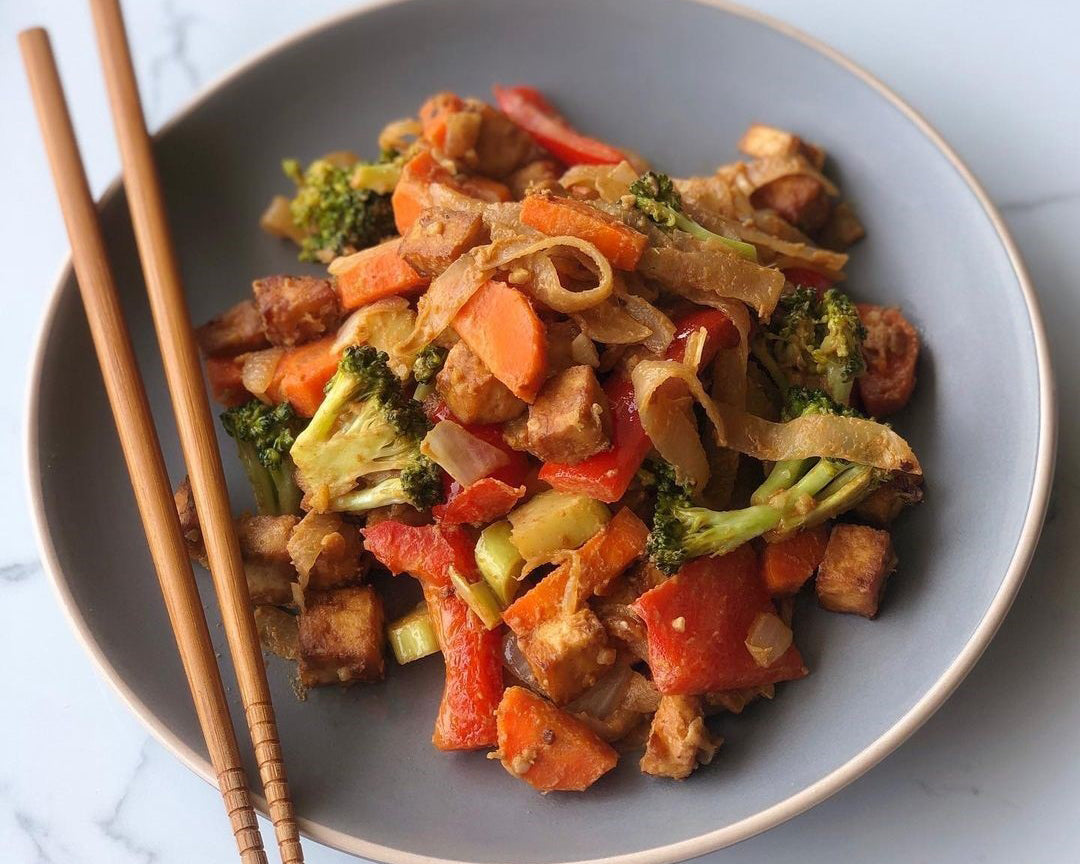 Whether you're incorporating a plant-based meal during the week or living the meatless lifestyle, this Miracle Noodle with Stir Fry Veggies, Tofu and Peanut Ginger Sauce can keep carbs low and still provide gut-friendly soluble fiber.
Recipe by @eatsbyalysssa and @claire_vita 


INGREDIENTS:
MARINATED TOFU:
Tofu, cubed (amount to preference)
1 Tbs soy sauce
1 tbs avocado oil
1/2 tsp chili garlic sauce
1 tsp minced garlic
SAUCE:
1/2 cup of smooth peanut butter
1/4 cup water
1/4 cup rice vinegar
1/4 cup soy sauce
1/2 tbs ginger, minced
2 cloves garlic, minced 
𝐕𝐄𝐆𝐆𝐈𝐄𝐒:
1 pack of Miracle Noodle Fettuccine
1/4 cup diced onion
1 tbs minced ginger
1 tbs garlic until onion
Broccoli (1 small head chopped)
1 red bell pepper, chopped
2 large carrots, chopped 
𝐃𝐈𝐑𝐄𝐂𝐓𝐈𝐎𝐍𝐒:

1. Combine soy sauce, avocado oil, chili garlic sauce, ginger, and garlic. Marinate tofu for 20 mins. in this mixture.
2. Bake tofu in an air fryer at 400° for about 6 mins and flip. Continue to air fry for another 6 minutes. You can also bake in the oven instead.
3. Miracle Noodles: following instructions on the package, rinse with cold water for 1 min, then cook on medium-high heat until dry.
4. Sauce: combine peanut butter, water, rice vinegar, 1/4 c soy sauce, 1/2 tbs minced ginger, and 2 cloves of minced garlic. (You could definitely half the sauce recipe, but I like to make a big batch because I use it so often. Just add as much as you want to the noodles and veggies as you go.)
5. Veggies: cook diced onion, 1 tbs. minced ginger, and 1 tbs. garlic until onion is translucent. Then add broccoli, bell pepper, and carrots.
6. Once the veggies have cooked enough, add in the noodles and sauce. After cooking for a few mins, stir in the tofu.