Pesto Artichoke Chicken Fettuccini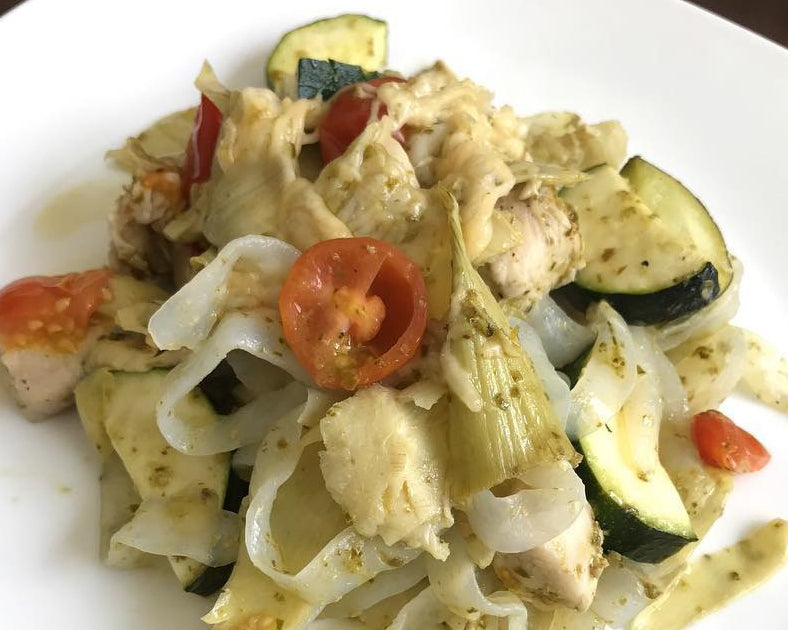 Want an easy low-carb meal with rich flavors of pesto, artichoke hearts, and Parmesan cheese? Look no further! Try this recipe from Farm! She used our keto-friendly and fiber-rich pasta to make this a tasty and filling dish!
"I used to make this dish with tortellini pasta mixed with rotini pasta, and it was so good! Instead, I used Miracle Noodle Fettuccini for a friendly substitute." 

Recipe by Farm AKA @keto.f4rm on Instagram.


INGREDIENTS:

Miracle Noodle Fettuccini
Sliced zucchini
Grape tomatoes
Artichoke hearts
Cooked chicken tenders 
Olive Oil
Salt and Pepper
365 by Whole Foods Market basil pesto
Shredded Parmesan Cheese
DIRECTIONS:
1. Rinse Miracle Noodle Fettuccini for 1 min. Boil for 2 and drain. Dry roast the noodles over medium heat till noodle squeak when moved around. Set aside.
2. Slice chicken tenders in cook in a skillet with olive oil, salt, and pepper. Remove from skillet.
3. In a bowl, combine all other ingredients except cheese in a baking dish at 375 covered for 15 minutes.
4. Uncover and top with Parmesan cheese. Bake for another 15 minutes uncovered.