Sautéed Shrimp with Kanten Noodles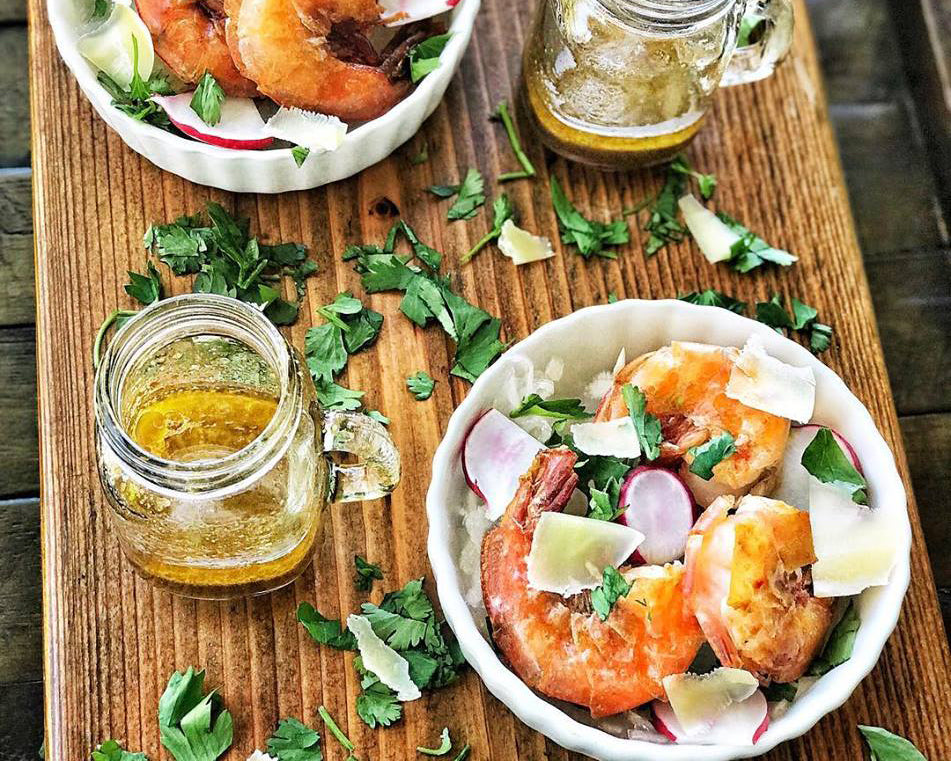 Eating healthy can sure be tasty! Alexia proves it with this amazing meal fit for all!
 

She chose to use our kanten noodles, which are easy-peasy to prep. Our kanten is dried, but add hot water for 15 seconds, and low-carb noodles are ready for you! This means less time in the kitchen and makes it a great option to take on the go to your favorite noodle shop.

"I was so so excited to find these new noodles I could eat! With all the food intolerances and sensitivities I have

, it's not often I find something pre-made that I can eat.

These noodles are basically all fiber and made from a sea vegetable. They have zero carbs or calories that are a perfect Asian noodle kind of consistency. When I saw these online, I immediately pictured this dish in my mind. It did not disappoint. I love it! They're Kanten Noodles made by Miracle Noodle called if you want to check out."

Recipe by Alexia Aleman AKA @accidentalparisiancook.



SAUCE INGREDIENTS:

1/4 cup lime juice
6 tablespoons olive oil
2 tablespoons coconut aminos
1 teaspoon of black truffle sea salt
1 teaspoon cumin
1/2 teaspoon granulated garlic

Note: Truffle salt can be substituted with approximately 1 tsp pink Himalayan salt)

DIRECTIONS:

1. Combine in a small bowl and mix together. It's normal that it separates when it sits. But, you can just remix or shake it up in a mason jar.

SAUTÉED SHRIMP INGREDIENTS:

8 shrimp
4-6 tablespoons olive oil
Salt to taste

DIRECTIONS:

1. Sauté shrimp in a pan with just enough olive oil to just cover the bottom. The key to delish shrimp it make sure they are dry as possible before sauté. Pat them dry with a paper towel.

2. You can season as you wish. I add about a 2 teaspoons of Black truffled sea salt or 1 teaspoon of pink Himalayan.

3. Cook approximately 3 minutes each side. Shake pan regularly to make sure they don't stick to the pan.

KANTEN NOODLES:

1 package of Miracle Noodle's Kanten Pasta
1 pot of boiling water

1. Place kanten in a pot of boiling water. Stir with a fork about 5-10 seconds. Take Out When they separate and start to soften. Don't leave them in too long they'll start to melt into the water.

2. Remove Noodles. Put in a dish with some of the shrimp and any garnish. (I like to add arugula.)

3. Top with shrimp. Pour dressing and serve immediately. I do not recommend refrigerating the noodles or letting them sit cause they will harden and stick together. But, served immediately it's absolutely divine!

4. Added radishes, cheese, and cilantro.