Spinach Angel Hair Vegan Dinner Delight for Two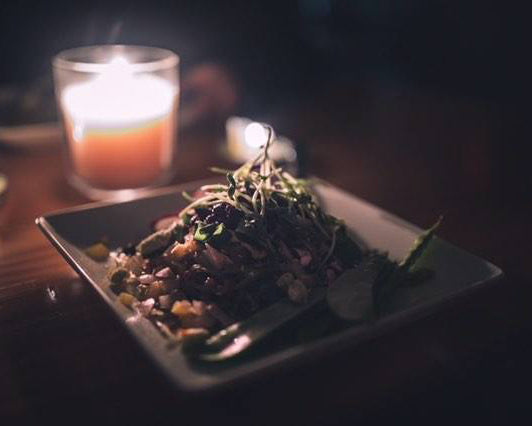 Miracle Noodle Fan,
 made quite the meal, served by candlelight! Yes! Miracle Noodle can make for a magical and lovely evening!
"Belated fiancé appreciation. Thank you, Evan, for not only putting up with my ever-evolving diets but getting excited about them with me
❣️
We had the most delicious low-carb romantic dinner! The base was made of Miracle Noodle Spinach Angel Hair. Miracle Noodle made of the fiber from the konjac bulb. They are comprise

d mostly of water and glucomannan (water-soluble fiber), these noodles are any gut's best friend! I made this meal with veggies on hand."



Follow Gabi on Instagram at @radskillet.


INGREDIENTS:
1 package of Miracle Noodle Spinach Angel Hair
Olive Oil
Bell pepper variety of choice
Garlic, minced
Onion
Fresh pea shoots
Black beans
Vegan Pesto
DIRECTIONS:
1. Rinse noodles for 1 minute, boil for 2 minutes, drain.
2. Transfer noodles to pan & sauté until noodles are sticky, dry.
3. In a separate pan: sauté bell pepper, garlic, & onion in olive oil.
4. Top with fresh pea shoots, black beans & vegan pesto!