Stuffed Acorn Squash Mushroom Risotto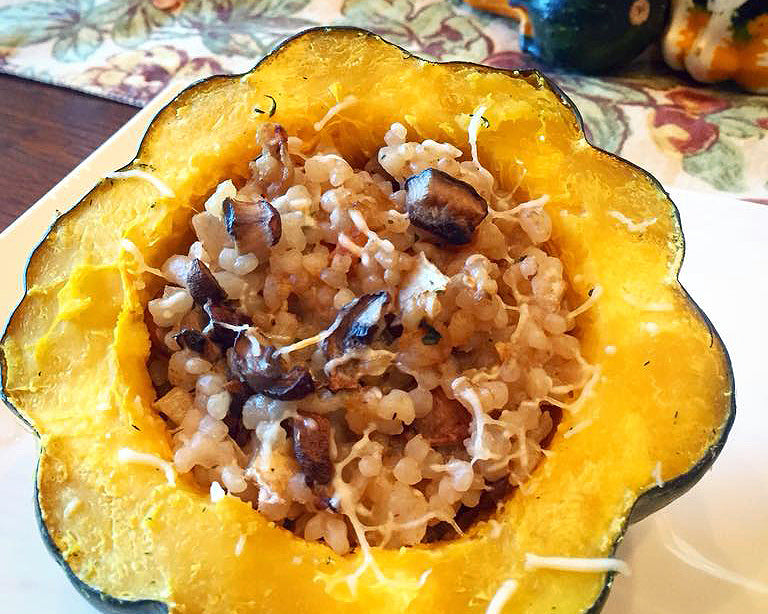 Ambassador, Jennifer Newman, is embracing Autumn with squash, mushrooms, and cheese!
In place of regular flour as a thickening agent, Jenn used our Konjac Flour. She stuffed her squash with our Miracle Rice to make it extra filling and satisfying!
on Instagram for healthy meal ideas and great fitness motivation! She can be found at
"
In the spirit of fall, a festive and homey dish with a healthier twist. A spin-off on the classic Mushroom Risotto made with better-for-you substitutions!" 


 
1. Miracle Rice instead of Rice. 
2. Konjac Flour as a thickener instead of regular flour. 
3. The Laughing Cow Cheese Wedges + Vegetable Stock for a creamy and decadent sauce instead of butter and cream. 


Fun Fact- Acorn Squash not only makes for a delicious "bowl," it's also packed with antioxidants and vitamins!
INGREDIENTS:
1 bag of Miracle Rice
1 acorn squash
2 Laughing Cow cheese wedges
1/2 cup shredded mozzarella
1 pack of Reishi Mushroom Elixir Powder (this adds an earthy flavor and the health benefits are endless!)
Sauteed veggies (onions and mushrooms)
Spices: garlic, pepper, paprika, thyme, dried parsley
1/3 cup vegetable stock
1/2 teaspoon of Miracle Noodle Konjac Flour


DIRECTIONS:

1.

 Microwave Squash for 7 minuets, or until tender to cut. Cut Squash in half and scoop out insides.


2. 

Saute Mushroom and Onion. Meanwhile, prepare Miracle Rice according to package instructions, then add to pan.


3.  Add Cheese Wedges, Mushroom Powder and Vegetable Stock.
4. Continue cooking until cheese is melted and sauce is formed. Finally, add Miracle Noodle Konjac Flour and stir until consistency has thickened.
5. Distribute Risotto evenly in each Squash half. Sprinkle Mozzarella cheese and bake until Cheese has melted.
4. Bake until Nori crisps