Sweet & Sour Chicken Noodle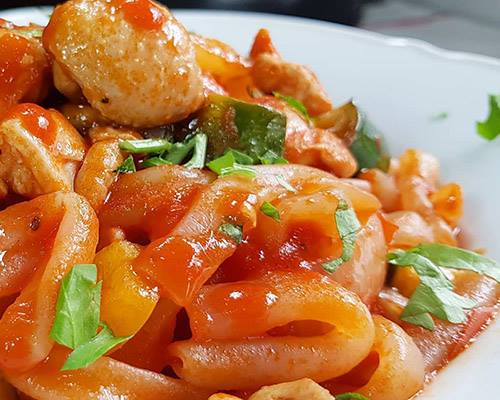 Craving for something sweet and sour? Try this sweet and sour chicken noodle using zero-carb ziti from Miracle Noodle. Enjoy the sweet, savory, tangy and moderate spicy flavors of this dish. 
INGREDIENTS: 
3 packs of Miracle Noodle Ziti  
2 whole chicken legs (cubed)
2 medium tomatoes (cubed)
1 medium yellow onion (chopped)
1 cucumber (cubed)
400 g tomato puree
1/4 cup apple cider vinegar
Salt to taste
Sweetener to taste
Hot sauce to taste (optional)
Cooking oil
Parsley for garnish
DIRECTIONS:
1. Rinse noodles, drain and boil for 2 minutes. Drain and dry roast in a pan without oil until squeaky to remove as much water as possible. Set aside.
2. In a pan, stir fry onions until fragrant, then add the chicken and cook for a while.
3. Add the rest of the ingredients and sautee until cooked. If the sauce is too thick, add some water. Adjust taste accordingly.
4. Dish up and garnish with chopped parsley.