Busy Fortune 500 Project Manager Discovers Simple Solution for Staying Low Carb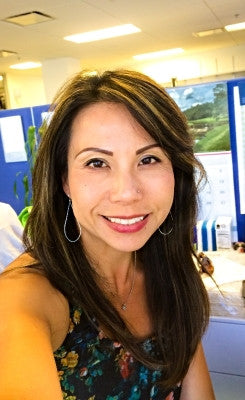 Despite working 10+ hour days in a stressful job, Grace Lau manages to find time to prepare low carb meals every night. She's even supplied a recipe for Tofu-Turkey Veggie Stir Fry over Miracle Noodle Angel Hair.
Grace Lau, a Fortune 500 Project Manager, replaces carbs
with Miracle Noodles for dinner every night.
One month ago, she received her first Auto Delivery,
which makes it much easier--and cheaper--for her to stay Low Carb. 
Hi. My name is Grace Lau.
I live in Martinez, CA, near the Bay Area.
I am a project manager for a Fortune 500 company.
I have a pretty stressful job dealing with deadlines.
I work at least 10 hours a day.

But I am very health conscious.
I exercise daily.
I am 44, and at this stage in my life I'm very concerned
and proactive about my health and well being.
I discovered Miracle Noodles about a year and a half ago.
I remember that I really liked the product. 
Unfortunately, I stopped ordering Miracle Noodles.
I can't really remember why.

A few months ago you could say I rediscovered Miracle Noodles.
As I have gotten older, I've discovered
my body's getting more intolerant of certain foods.

I recently found out through a food allergy intolerance test
that I'm both gluten and lactose intolerant!

It dawned on me that Miracle Noodles never gave me any problems.
Digestive or otherwise.

So I went online and actually researched Miracle Noodles again.
I don't recall previously that Miracle Noodle offered 15% off for auto delivery.

I decided to order again and got on the auto delivery plan
with the Variety Pack about a month ago.

I've already finished my entire first Variety Pack
and I'm glad that another one is automatically on its way
so I don't have to think about it.

I usually just eat Miracle Noodles once a day with dinner
and that replaces my carb intake.
I like to make a quick simple dinner.
Something I can just make with brown rice and veggies.
I normally do a lot of brown rice and stir fry.
So I just put the stir fry on top of the noodles. I really enjoy it.

I love all the little perks I get with my auto delivery like the free bag of noodles.

The customer service has been excellent and I really appreciate that.
And I've also been able to save money through the rewards program.
I was pleased to discover that Miracle Noodle has expanded its product line quite a bit.

I just really like the products.
I also purchased the new Soup Bundle pack, which I haven't tried yet but am sure will be delicious.

I'm really glad I rediscovered Miracle Noodle! Thanks!

--Grace Lau
Martinez, CA

Recipe: Grace's Tofu-Turkey Veggie Stir Fry over Miracle Noodle Angel Hair