Spicy Crispy Chicken with Miracle Noodle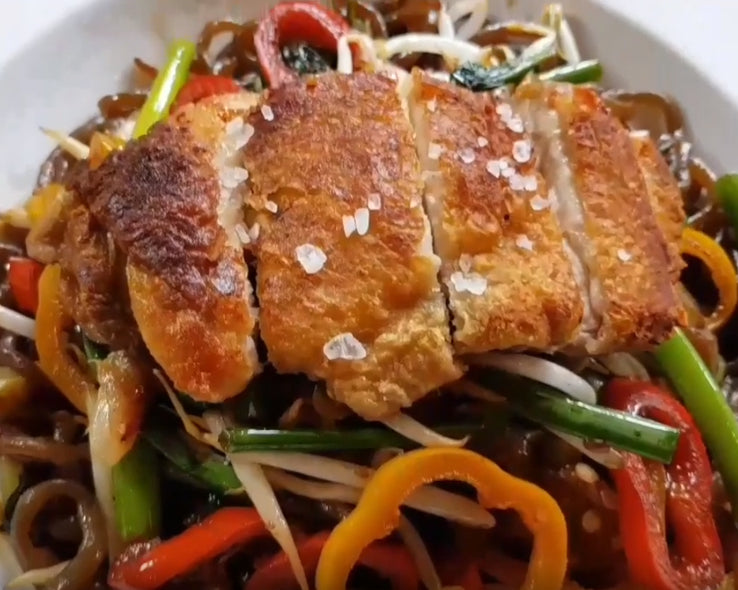 Check out this delicious meal from our Ambassador Elsie! Give her Miracle Noodle and Crispy Chicken recipe a try with our keto-friendly Angel Hair or our Shirataki Black.
"Miracle Noodle and crispy chicken are a perfect match. This yummy noodle is sweet, tangy and spicy. The chicken is naturally crispy from the skin itself but there is a technique to do it. I have a separate video on how to make this crispy chicken on my youtube channel lowcarbrecipeideas."


INGREDIENTS FOR NOODLES:
1 packet of Miracle Noodle Black or 
1 packet of Miracle Noodle Angel Hair
1 each of different colors of jalapeno peppers and chilies (sliced)
2 to 3 bird's eye chilies (sliced)
1 cup baby spinach
1 cup bean sprouts
A handful of spring onions (cut lengthwise)
1 tbsp minced garlic
SAUCE:
(Mix all ingredients in a bowl and set aside)
3 to 4 tbsp liquid aminos, tamari or soy sauce
1 to 2 tbsp fish sauce (optional)
1 tbsp black sauce or dark caramel sauce (for color)
3 to 4 tbsp apple cider vinegar
1 to 2 tbsp sesame oil
Low-carb natural sweetener to taste
DIRECTIONS:
1. Prepare @miraclenoodle per instructions on the packaging.
2. In a pan, stir fry the garlic, jalapeno peppers and chilies until fragrant.
3. Add all other ingredients, sauce and stir fry until well combined. Adjust taste accordingly.
4. Dish up and set aside.
INGREDIENTS FOR CHICKEN:
1 whole boneless chicken leg (cut into 2 pieces)
Cooking oil
Salt & pepper to taste
Parchment paper
DIRECTIONS:
1. Pat dry the chicken with a paper towel.
2. Season with salt on both sides of chicken.
3. Heat a non-stick pan with a bit of cooking oil and place chicken skin down.
4. Cover with parchment paper and weigh down with a pot or pan. Apply pressure with the pot to flatten the chicken skin as much as possible. Add more weight by placing a pestle or anything heavy onto the pot.
5. Cook at medium-high heat for about 5 to 10 mins. Be careful not to burn the chicken skin.
6. Once the chicken skin has turned golden brown, remove the pot, pestle, and parchment paper.
7. Season with black pepper then flip chicken and cook for just a bit.
8. Remove chicken, cut into pieces, and place on top of noodles. Sprinkle the chicken with coarse sea salt. Enjoy!