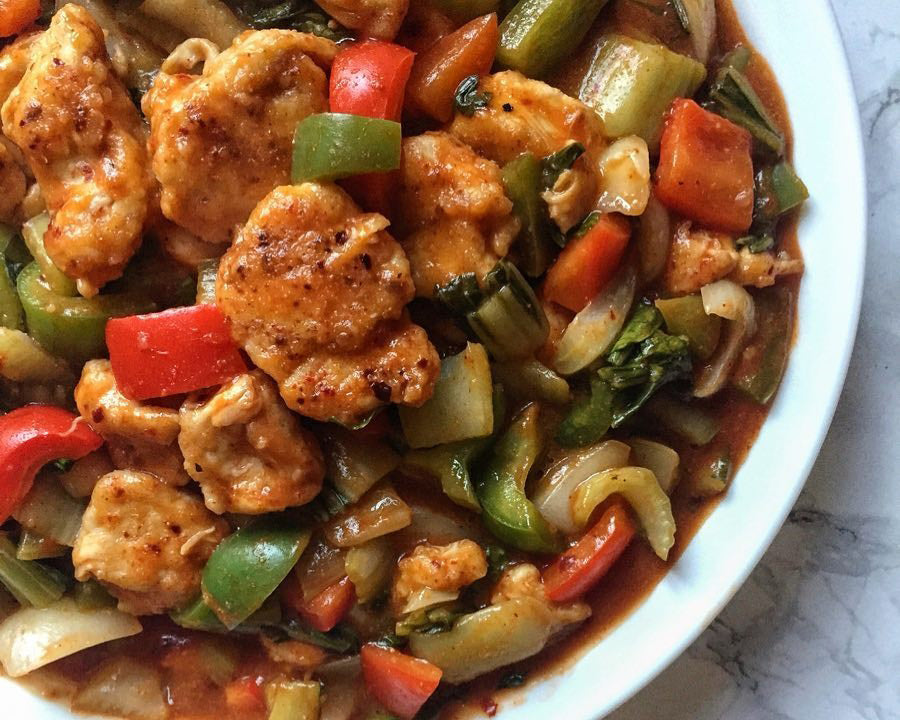 Who doesn't love it a little sweet and sour? Miracle Noodle allows you the ability to make your favorite takeout versions at home with healthy ingredients and low-carb noodles and rice. That's what Ambassador @thelowcalorielife) did! We just wanna eat it! Thanks, Rebecca!
(AKA
You can follow Rebecca's recipe and simply add in Miracle Noodle Angel Hair or Miracle Rice after rinsing and boiling. 
From Rebecca: "Made this sweet and sour chicken for the husband's (!!!) birthday tonight in under 15 min for only 250 calories... someone remind me why I don't make this all the time?!?"
INGREDIENTS:

One bag of Miracle Rice or Miracle Noodle of choice
One big head of Bok Choy
Two bell peppers
3/4 cup of sugar substitute
1/4 cup low sugar ketchup
1/2 apple cider vinegar
Onion powder
Garlic powder
Sriracha
Cornstarch slurry (One tablespoon of cornstarch to 2 tablespoons of cold water)
Chicken 

DIRECTIONS:

1.) Prepare your Miracle Noodle or Miracle Rice by rinsing for one minute, boil for two and drain. Return to your empty hot pan and move noodles/rice around till all water is absorbed.
2.) Simmer a sauce made of 3/4 cup sugar substitute, 1/4 cup low sugar ketchup, and 1/2 cup cider vinegar mixed with garlic powder, onion powder, sriracha, and a tablespoon of cornstarch slurry. (To make cornstarch combine 2 parts cold water and one part cornstarch. This is used as a thickening agent in a lot of Asian sauces.)
3.) Set it aside while you brown some chicken tossed in cornstarch.
4.) Set aside chicken, and brown diced bok choy and peppers. When the veggies are almost done, add chicken and sauce back to the pan with some scallions.
"Seriously, it's so simple and so delicious. 
👌 I think I'm at the point where I need to make a favorite family recipes list - does that mean I'm a real adult??!"